Collaborate with other users by sending comments from various locations.
Budgyt allows 2 types of comments:
Notes left at the subcategory level can be accessed from the data sheet (go to Data/Formulas > Data Sheet) by selecting the note pad icon on right of the subcategory row (to add a new note you must be in edit mode). These are static notes and cannot be directed to other users, but they will appear at the bottom of your P+L reports.
Comments may be left in 3 locations:

On the PL by Department Dashboard - comments may be attached to any data point on this Dashboard when in Comment Mode (select by clicking the speech bubble button beneath the green drop down on the right of the dashboard - see below, this will also switch out of comment mode), just click on any number, and the comment window will appear, allowing you to leave a reminder comment, or direct the comment to a particular user. Choose a user from the dropdown, type your comment and hit Save, and the user to whom you directed the comment will receive an email telling them there is a comment waiting for them, and will also see a number appear on the Bell icon at the top right of their screen if they are already in Budgyt. When there is a comment attached to a data point on the dashboard, a flag will appear by that number, and clicking the data point (when in comment mode) reveals the comment thread.
On the Comp YTD and Comp By Period Dashboards - comments may be added to the Variance 1 column. They function in the same way as above, with the proviso that you may only enter a new comment when you are looking at the variance for 1 department, so make sure to choose just 1 department from the Departments menu before adding comments. Also, the 2 data sets that you are comparing must be in the same order as when the comments are created to be able to read them e.g. Budget 2020 in column 1, Actual 2020 in column 2.
On the Data Sheet - comments may be left on each month for each budget item. Here the speech bubble is next to the edit tool on the left side of the screen, and is not accessible in Edit Mode. But the functionality is similar to on the dashboards.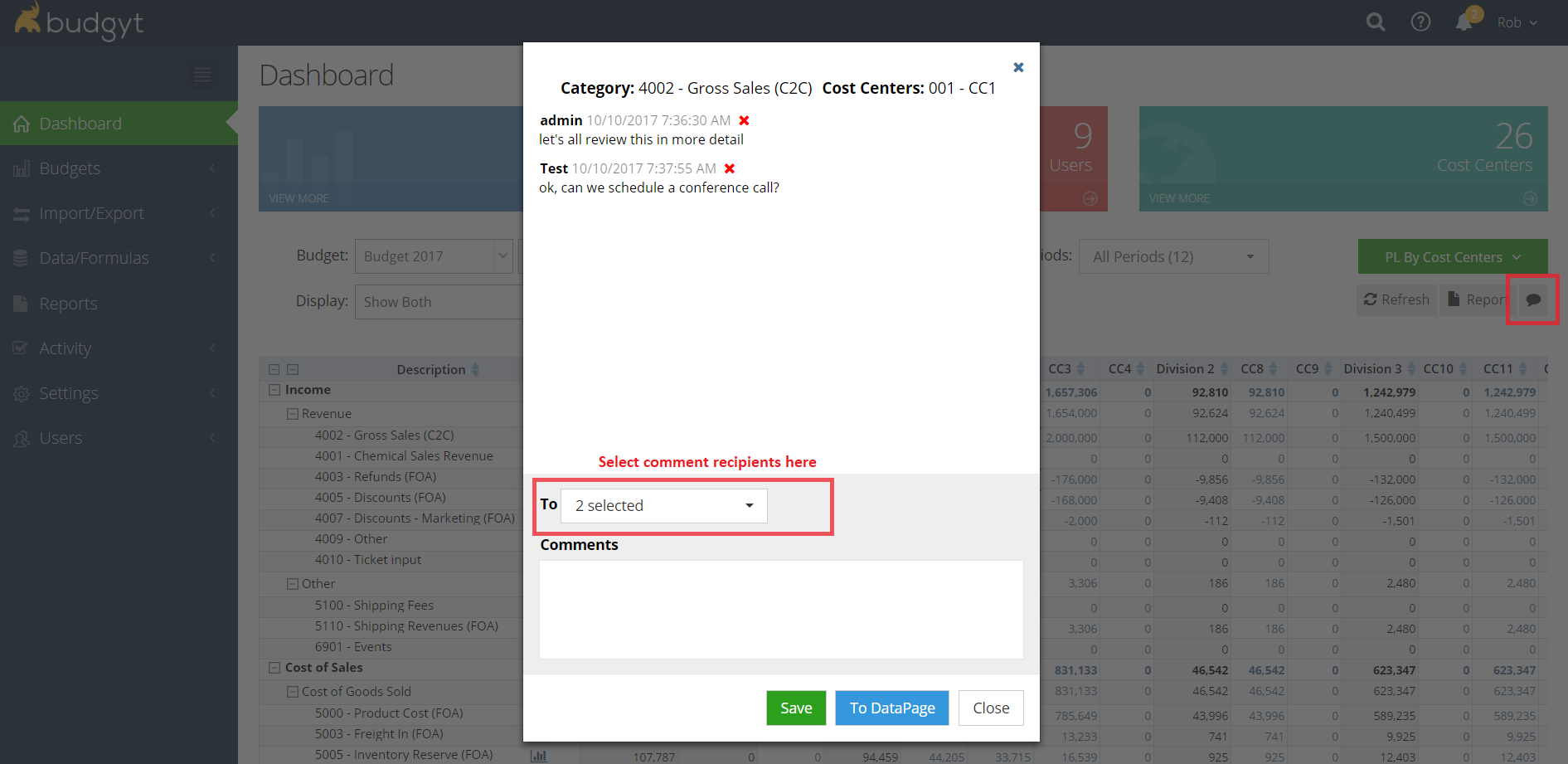 Comment Log - all comments added using the speech bubble can be found in your comment log under Activity > Comments.