Leave comments and collaborate with other users.
In Budgyt, we have two ways to add comments; at the sub-category level for documentation or as a conversation with other users.
Using Notes on the Data Sheet that are attached to a sub-category line item.

When in edit mode on the data sheet, you will see a Note Pad icon at the right hand side of each row. To leave a note, click on this icon, and type the note into the pop up box that appears. The Note Pad will now turn RED indicating that there is a note there. These notes cannot be directed to other users, they are simply there as a reference for that particular sub category line, and will appear at the bottom of the P+L Reports if requested.

Using Comments added to the PL by Department Dashboard, the Variance Column on the Budget Comp Dashboards, and also the Data Sheet.

at the right hand side of the dashboard screen, under the green drop down menu button, there is a speech bubble icon. Click this to flip the dashboard into Comment Mode. On the Data Sheet you'll see the speech bubble next to the edit tool.
When comments are turned on, the numbers on the Dashboard/Data Sheet will be in BLUE font, and when you click on them, instead of being directed to the data sheet, you will see a messaging window appear.
This window allows you to write a message, and choose to just leave it there, or direct it to one or more other users. Type the message, select a user(s) and hit save, and the selected user(s) will receive an email alerting them to the message. They will also see an alert on the bell icon at the top right of their Budgyt screen, and the message will be available to them under Activity > Comments.
Once they have opened the message, they can also comment and you may continue a dialogue in this fashion.
When in comment mode, comments are shown on the dashboard/Data Sheet as flags to the left of the data item they refer to. When comment mode is off, these flags remain visible, but the dashboard functions as normal, directing the user to the data sheet when a number is selected.
Notes visual: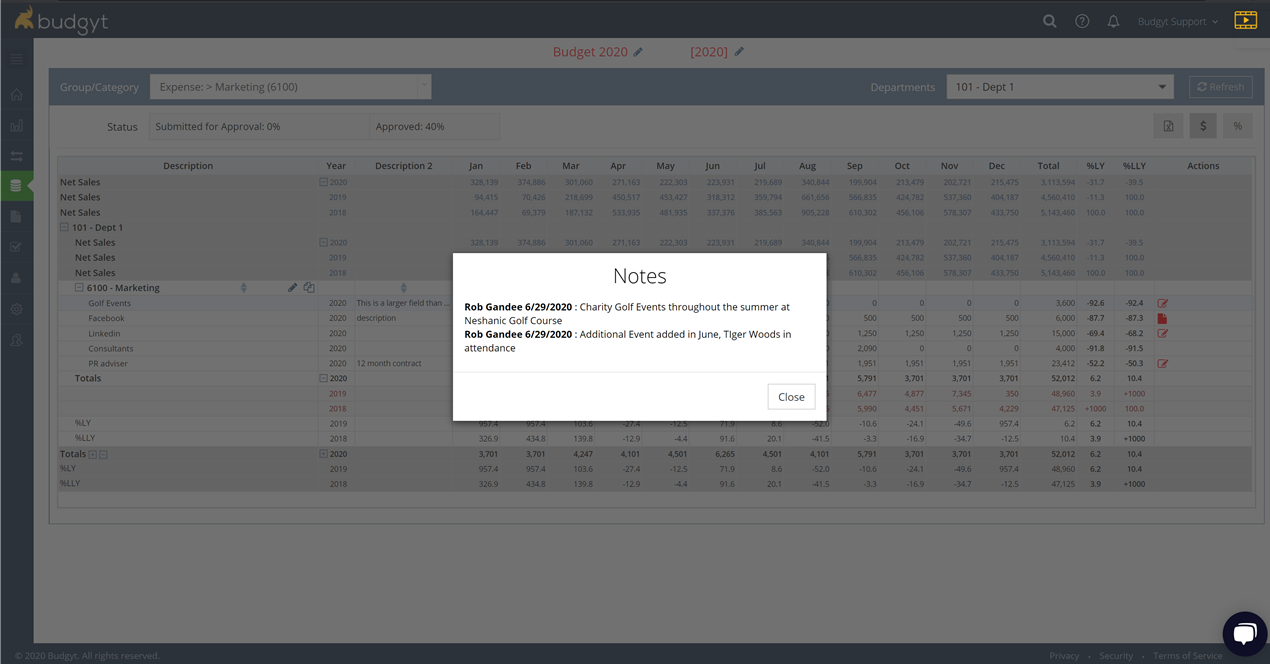 Comments visual: