When you need to add an employee(s) to Budgyt, go to Employees > Manage Employees. Here you can input the name, title, employee code and hire date for the new employee. You can also determine which department(s) will be paying this employee - Budgyt allows employees to work in multiple departments.

This screenshot shows the Employee creation form. Below you'll find descriptions of the fields you'll need to enter.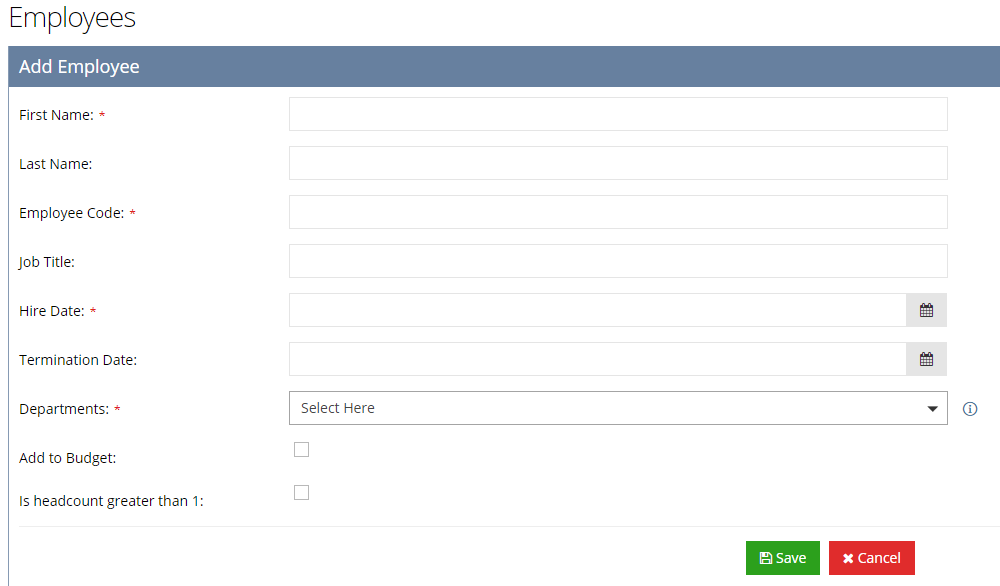 Names, Employee Codes, Job Titles and Hire Dates are all pretty self evident. Those with a red asterisk are required.
The Departments menu allows you to choose which departments (you may think of these as Locations, Cost Centers, Programs etc) this employee will be able to work in.
Add to Budget needs to be checked if you wish to assign a payroll to this employee. If you're growing fast and want to create a number of potential future employees, you might build them here and not check the box until you know you'll need that employee.
Is Headcount Greater Than 1 will need to be checked if you are creating a group of employees. You might do this if you have hourly positions with a transient workforce - e.g. wait staff in a restaurant business. Setting up a group allows you to define the pay for an individual in the group then multiply by the number of positions in that group.
Once you have created the new employee, you will need to go to Employees > Manage Payroll to input their compensation.
If you need to add a large number of employees at once, it might be better to use our import function at Import/Export > Manual. Here you can find a template for importing employees and their compensation details.