Add and Edit compensation details for your employees.
Once you have imported your employees in the Manage Employees section, you will want to input their salary details. To do this, you must first choose an employee by clicking the Add New button and selecting one from the drop down menu that appears. To edit the details of a payroll that has already been established, select the pencil symbol on the right.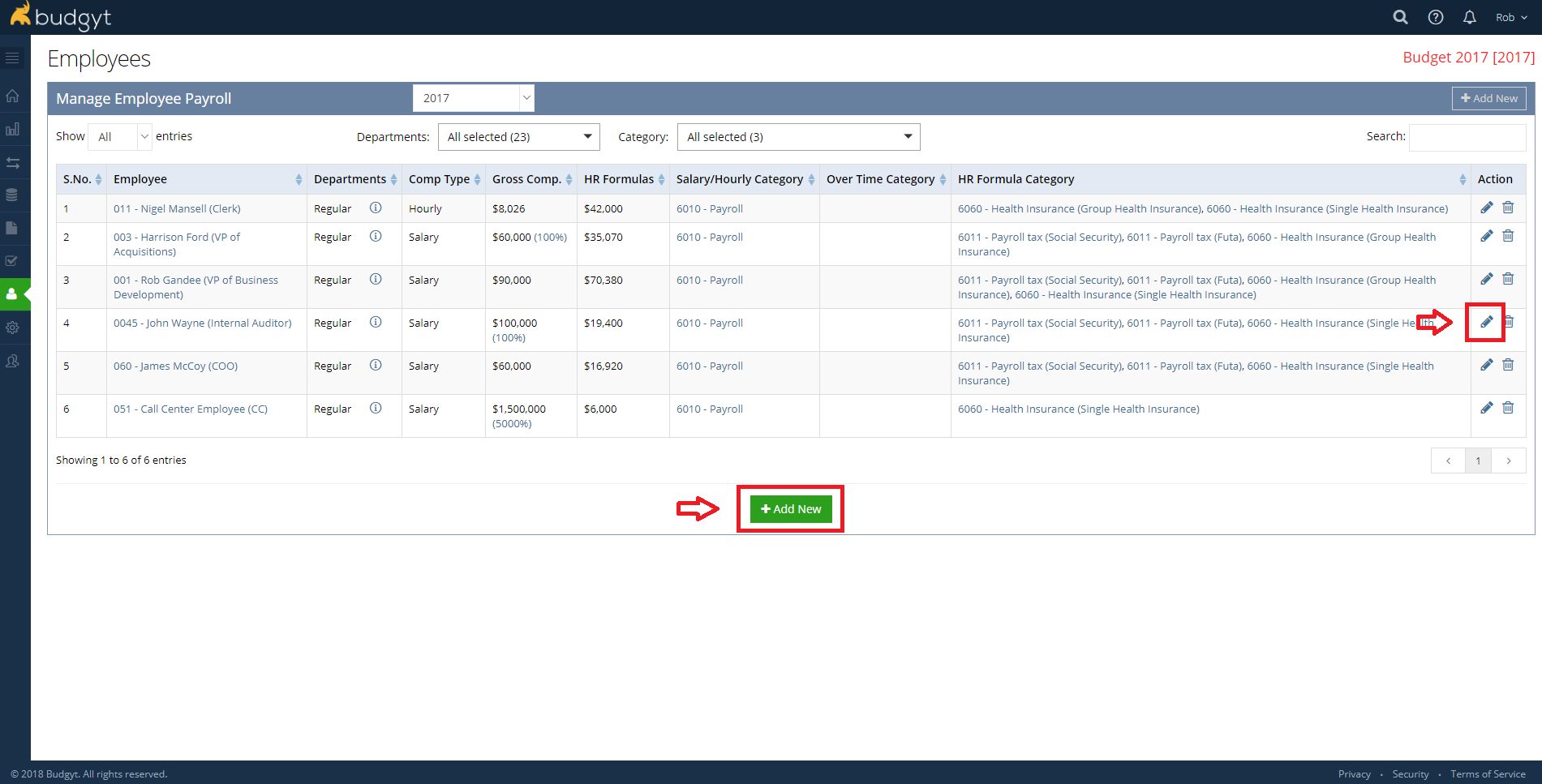 Once you have clicked Add New, you will have a number of options:
Formula Year - allows you to choose the year within the current budget (shown at top right) on which you wish to work.
Comp Type - choose between hourly or salaried employees.
Target Category - in which of your GL Accounts do you wish this payroll to appear?
Hourly Employees
If you choose Hourly, you will see something similar to the screen shot below.
Here we have an hourly employee that started work in July 2017 (hence the first 6 months are greyed out), who is working different hours in Dept 2 and Dept 3, and being paid a different hourly rate in each.
Below the hours and rates grids there is an option for Overtime Pay. Checking this will display similar pair of grids that allow you to enter overtime, and target it to a different GL account if required.
Also, the HR formulas that have been applied to this employee can be seen/chosen from the drop down menu at the bottom of the screen.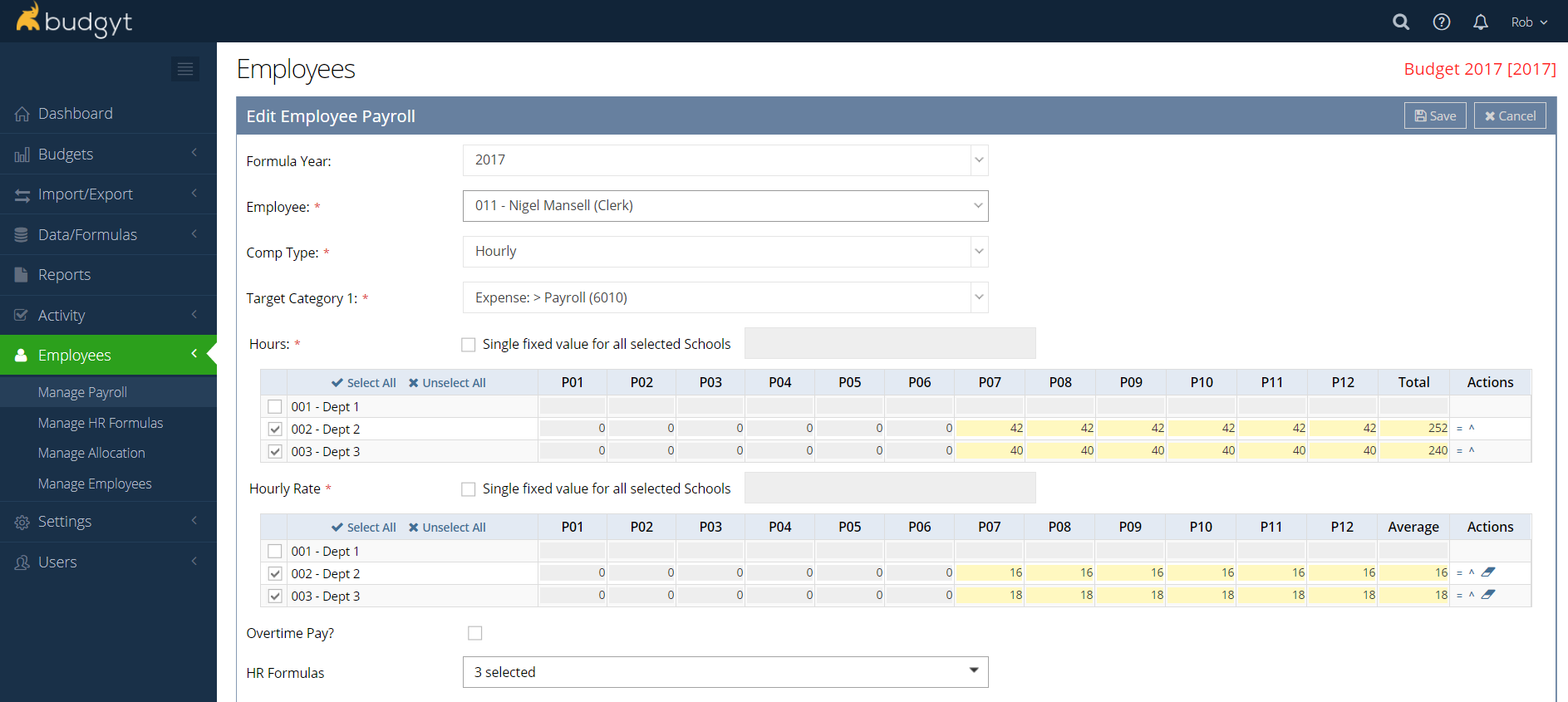 Salaried Employees
The set up for salaried employees is similar to that for hourly employees, but has some differences:
There is only one grid. This shows the percentage allocation of salary paid by each department. To set this allocation, first enter the annual salary in the field provided, then enter the percentage (in decimal form, eg 40% = 0.4) in the grid - in this case you can enter the percentage in the far right field, and then spread to the whole year using the "=" sign, or enter it in period 1 and use the blue arrow to the left to spread across. This allocation may also be changed month by month.
Overtime is also available here if your business pays an hourly overtime to some salaried employees.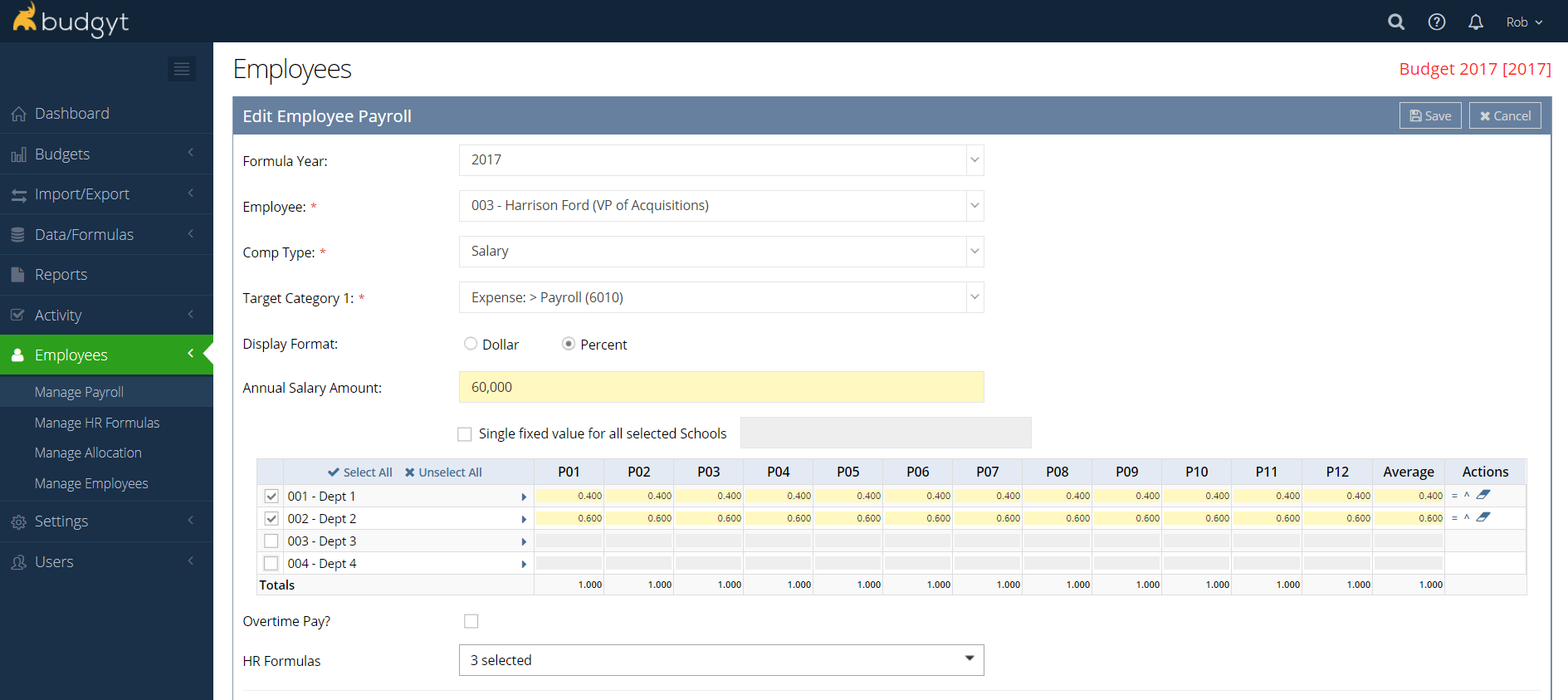 Below the Overtime check box you'll see a menu for your HR Formulas. Here you can choose which formulas will apply to this employee.