Security
Password Format - your passwords must now contain at least 6 characters, including at least one uppercase, one lowercase, one number, and one special character.
Password Reset - your Administrator may now set a frequency for changing passwords from 30 to 120 days. To do this, got to Settings > Preferences and scroll to the bottom of the page: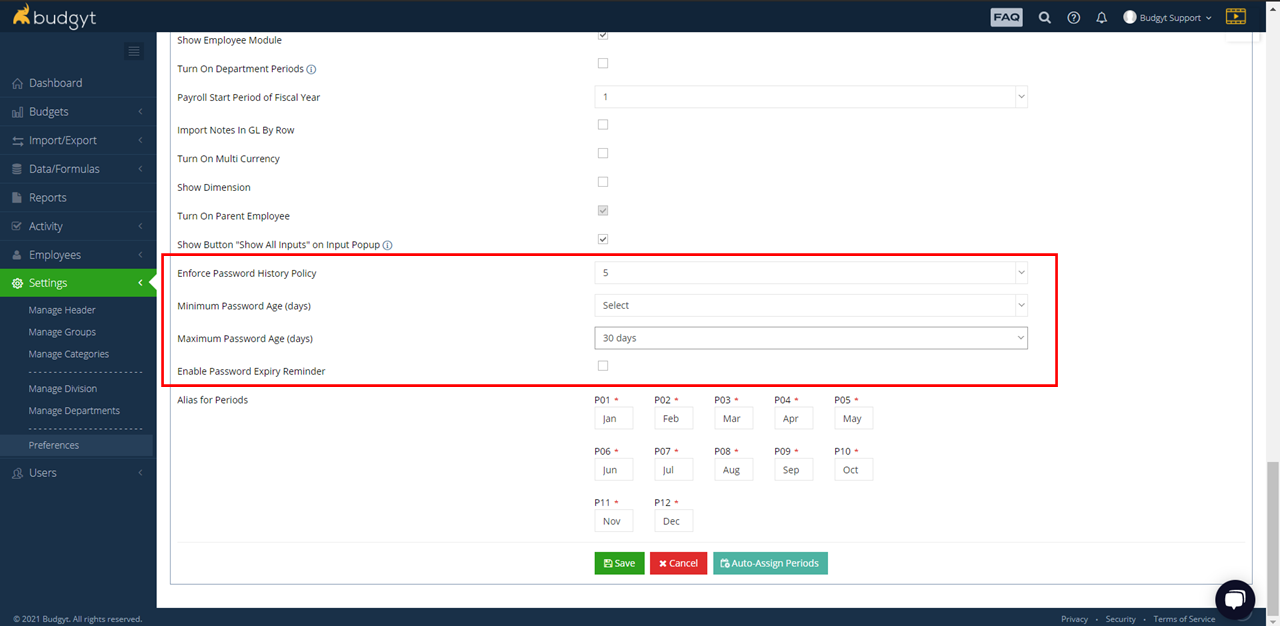 Other Password Upgrades - you can also determine how many unique passwords are required before a user may re-use an old one, set an Upcoming Password Expiry reminder, and set a minimum age for passwords.
General
C2C Count function for Dimensions - The Count function is now available at the Dimensions level.
Dimension Level C2Cs option - until now, if you added/subtracted together three categories at the dimension level, only those dimensions present in all categories would be added/subtracted. Now there is an option for the formula to work however many categories contain a particular dimension. Select Any in the C2C edit page to add/subtract if your dimensions don't need to be present in all source categories, or All in Common if they do:

Report Print View - In Preferences you may now set your reports to show as Normal (without page break lines) or Preview (with the lines).
Import Status Report - when you import your monthly actual data, the import status report will now include filters to make it easier to check for errors.
Deactivating Departments and Categories - if you try to deactivate a dept or category that cannot be deactivated because it contains data/formulas, you will now see a report download that will show where that data is.
Payroll Export/Import - If you use the Export button in Manage Payroll to make large scale changes, then re-import your data, your pay raises will still be applied to your employees.